General Yoweri Museveni has ruled Uganda for more than 25 years. Since taking power in a 1986 military coup, he has stacked this Central African country's voting commission with his henchmen and stolen its elections. Having abolished presidential term limits in 2005 in a sham referendum, he plans to rule for life, and is grooming his son for succession.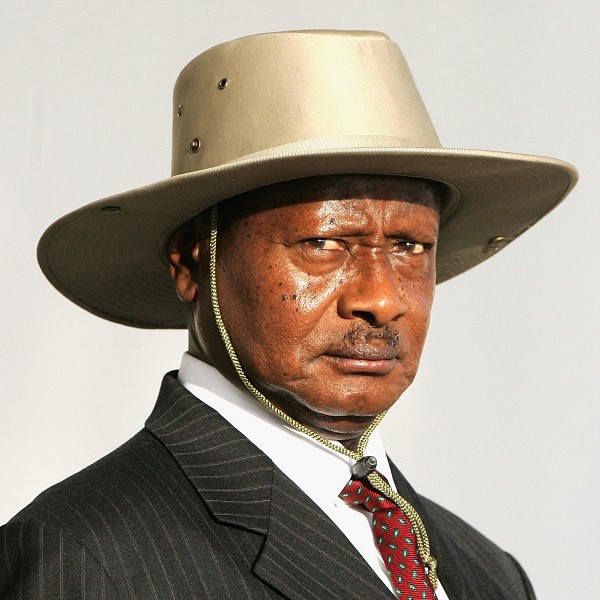 Having ruled Uganda since 1986, Yoweri Museveni has been likened to Robert Mugabe
Museveni has used the Ugandan state treasury to build a climate of fear through a security apparatus that persecutes dissidents and critics with imprisonment, torture, disappearances and extra-judicial killings. He has reduced the country's parliament to a rubber-stamp body, censored the nation's media, and militarized its civil institutions.

To distract his countrymen, Museveni has fanned the flames of homophobia in Uganda to the point of encouraging legislation that would penalize homosexuality with execution. By rallying the public against "the homosexual threat" with one hand, he is able to free his other hand to continue consolidating his repressive rule.
Museveni is waging a war on Uganda's gay community and its human rights activists. Reports from groups like Amnesty International and Human Rights Watch confirm the country's descent into authoritarianism. According to British journalist Peter Tatchell, today's Uganda is "in effect, a constitutional dictatorship," and Museveni is "the new Robert Mugabe."
Most readers may have heard a very different story: one about how Museveni's "strong leadership" has brought stability, economic growth and a successful HIV/AIDS policy to war-torn Uganda. Indeed, Bill Clinton once lauded him as the head of a "new breed" of African leaders. As The Economist noted, Museveni has been "kindly treated" by the international media.

In large part, Museveni's transgressions have continued to be downplayed because he took power in the wake of Idi Amin's butchery and disastrous civil war. But the main reason Museveni has escaped criticism is that he enjoys an excellent public relations service.
Dictators like Museveni often hire PR firms to whitewash their records. These companies, mostly based in the U.S. and Europe, specialize in distracting the public from evidence of human-rights violations with glowing rhetoric about stability, economic growth and commitments to help the poor. Their propaganda finds its way into sources that are deemed reliable by many journalists, from articles in respectable news outlets to citizen media like Wikipedia.
Examples of firms that whitewash the human-rights violations of despotic regimes include Bell Pottinger (for Egypt's Hosni Mubarak), Qorvis Communications (for Equatorial Guinea's Teodoro Obiang), Brown Lloyd James (for Libya's Muammar Gaddafi) and Hill & Knowlton, which has made a small fortune working for Yoweri Museveni and has offices in every major world capital.

When companies are exposed or criticized for their activities, they respond that their associations with these regimes are "limited engagements" lasting only a few months or that their assignments have to do exclusively with "tourism" or "economic progress". If the true nature and extent of their work is revealed, they say that they are consultants helping to create "economic opportunity", providing a guiding hand to governments as they seek to improve the lives of their country's poor.

On its webpage, Hill & Knowlton claims that "since becoming president in 1986, Yoweri Museveni has introduced democratic reforms and has been credited with substantially improving human rights."

This couldn't be further from the truth about Uganda, where political opponents disappear, where journalists are arrested for criticizing the government and where any comprehensive human rights report contains appalling anecdotes and disturbing analysis about a country where the judiciary has very little independence and where the regime has very little respect for the rule of law.

An example of effective media manipulation is how the Hill & Knowlton quote provided above from their webpage can be found word-for-word in the BBC country profile of Uganda. From there, this mendacious fantasy has spread like wildfire (go ahead, Google the quotation).

PR agents try to alter the public perception of reality, distracting us from human rights violations so that deals and foreign aid can flow faster and in larger quantities - usually into Swiss bank accounts - while the PR agents themselves are rewarded handsomely.
Twenty-five years ago, upon the death of Bergen University professor Thorolf Rafto, a prize was created to honor his lifetime commitment to human rights. Professor Rafto began to pursue human rights work after reading Vladimir V. Tchernavin's I Speak for the Silent Prisoners of the Soviets. He organized student protests against the Gulag and devoted the rest of his life to individual rights. The 2011 Rafto Prize laureate is Ugandan individual rights activist Frank Mugisha. He is recognized at a ceremony here in Bergen for standing up against Museveni's scapegoating campaign against Uganda's community of sexual minorities.
Not being globally advertised, the Rafto Prize is not well known beyond a small but significant set of public intellectuals and policy institutions. But it has the distinction of having been awarded more than once to people who went on to win the Nobel Peace Prize. Aung San Suu Kyi, Shirin Ebadi, José Manuel Ramos-Horta, and Kim Dae-jung were all presented with the Rafto Prize years before they were recognized by the Nobel Institute.
The Rafto Prize was first given in 1986 - a quarter century ago. That is how long Museveni has treated Uganda as his personal fiefdom and violated the human rights of millions. Perhaps Hill & Knowlton will recognize the 25th anniversary of the Rafto Prize by doing some pro bono work for human rights defenders like Frank Mugisha.
Thor Halvorssen is president of the New York-based Human Rights Foundation and founder and CEO of the Oslo Freedom Forum. Follow him on Twitter and on Facebook.